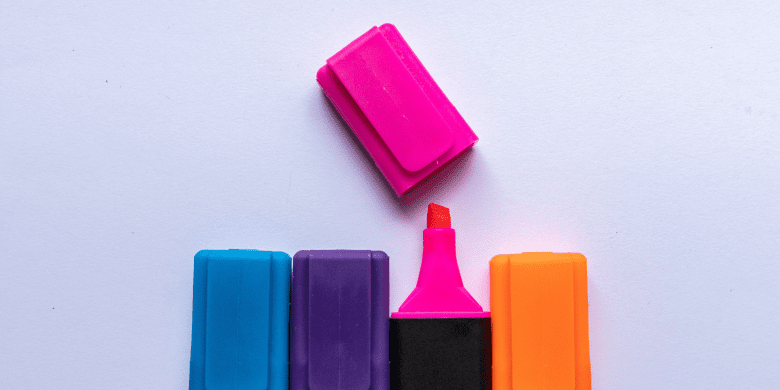 7 April, 2022
Make Your Business Stand Out With Promo Highlighters
Highlighters are an affordable promotional item that people will love and we thought we'd point out different options and the benefits or possible drawbacks of each type. Just like any other writing instrument, from ballpoint pens to rollerballs, there are many different styles, shapes of highlighter and tip shapes to pick from.
Below are just some of the type of highlighters you can choose from.
| | |
| --- | --- |
| | Standard Highlighters are what you typically find at a retail stationary store. They come with a pull cap with one colour of highlighter available. Most common highlighter colour is yellow, though there are many other colour options including pink, orange and green. Main advantage to this style is the print area which is usually quite generous due to the wide body. |
| | Combination Pens and Highlighter writing instruments are a clever combination of a ballpoint pen at one end and highlighter at the other. They are usually slimline and are designed to fit into a pocket like a regular pen. The obvious benefit is you don't have to carry two separate things as the pen and highlighter are together. |
| | Multicolour Highlighters gives you much more choice as they have more than one colour in the one product. Typically, they have 3 colours and are either triangular or round in shape with pull off caps to pick which colour you want to use, though some have as many as 5 colours! They are handy if you need to highlight different sections of a document in different colours as you have everything in one place. |
| | Retractable Highlighters are perfect for those that have a habit of losing caps. Rather than having to put on a cap each time after use, to stop the highlighter from drying out, it is just a simple click and it's done They tend to be the size of a pen, so they are easy to keep in a shirt pocket. |
| | Highlighter Sets are the perfect gift for those that need to be spoilt for colour. You can get mini highlighters in packs or jars or there are slide out tins with different coloured highlighters inside. |
| | Novelty Highlighters are the fun ones. Comical characters, syringe and lego highlighters are just a few of the amusing shapes you can get. They are great for giving out to kids or to adults for a giggle. They help with engagement as they are a fun writing instrument. |
There are so many options to pick from, if you need help choosing the right promotional highlighter for your business we'd love to help. Just send us an email or give us a call.
The Pens Only Team