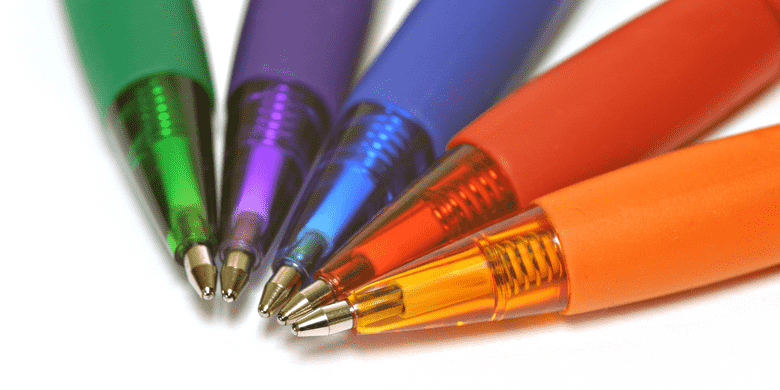 28 November, 2021
Stand Out From The Crowd With Custom Printed Pens
If you are looking for the ideal promotional item to stand out from the rest of the pack, custom printed pens are the perfect solution. They are a product people use every day, and they will strengthen the brand awareness of your company. The great thing about giving pens away as a promotion is that everybody wants one. Although we are supposed to be moving to a paperless society, how many pens do you still see on the average work desk?
The great thing about pens is the range of pricing you have. You can get cheap printed pens for under $0.35 each when bought in bulk, and they still have a decent-sized refill and would last at least one year. Otherwise, you can move up to a larger refill (usually over 2000m writing distance) for not a massive increase in budget and then you can look at metal pens with engraving for your higher end clients. There are endless possibilities, and they are ideal for trade shows and conferences when you need to give out large quantities.
Another great thing nowadays is the range of styles you can get. Solid colours, translucent colours, gloss and matt finishes, dimple, rubber and silicone grips, range of ink colours and the list goes on. There is a pen to suit every brand. They make so much sense to use in a marketing drive. They are cheap to buy, yet they have a purpose and can be used every day, rather than something that gets thrown in a desk or corner and never sees the light of day. Custom pens are affordable giveaway items for clients and employees. They can be one of the best ways to increase your brand recognition, engage your clients and in turn increase revenue.
It's a fairly simple equation. Custom printed pens are by far the best and most economical way to promote your business when you consider their visibility and usage, so why not get some for your next promotion.
If you are unsure what would work for you, just contact us by email or phone, and we'd be happy to assist in guiding you to the purchase of the right pen for your business.
The Pens Only Team