The Ugly Truth - What You Need To Be Informed Of
Around 1.6 billion pens are disposed of every year in Australia. We may think it's no biggy, but these pens are being disposed of on our landfills, waterways and in other unforeseen areas. This act is harming our environment rapidly. Reality check guys!!! We don't even use 90% of the pens we have.
The more pens we have the more…? There is no reason to why we should have a stack full of pens in our desk drawers, at home or in the car. The whole point of buying a pen is to use it, not abandon it. You, yourself can admit to throwing away thousands of pens since god knows when. It is the realistic truth people don't comprehend or are not informed of.
Even though people will continue to waste pens over and over and over again, it is best to come up with a resolution. At PensOnly, we provide 'bamboo enviro pens' that are 100% environmentally friendly. Unlike other pens, these pens are all natural! Crafted from environmentally friendly bamboo, these are the pens you deserve to own.
Our bamboo enviro pen is the type of pen no one would want to throw out. They are beautifully designed - allowing you to have a comfortable and easy writing experience. There is no room for plastic pens once you get a hold of our bamboo enviro pens. Moreover, if for some reason you throw these pens out (you won't and shouldn't) they are 100% recyclable.
Bamboo enviro pens are an excellent choice if you are wanting to promote your corporate identity. How? These pens can be imprinted to showcase your company name, logo or particular message you wish to display to your audience. For example, you're wanting to alert your audience how bad pens really are for the environment, you can simply restate it on the side barrel for maximum exposure. It is a fantastic approach to stating your opinion towards economic growth to the audience. Warn others with these issued matters to help our beautiful environment grow bigger & better. Order in bulk units today.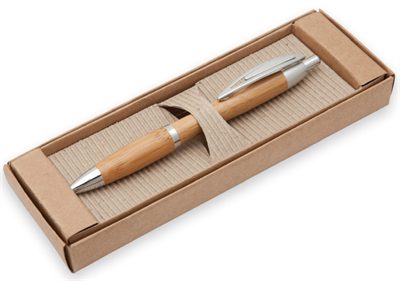 24 June, 2015
The Pens Only Team