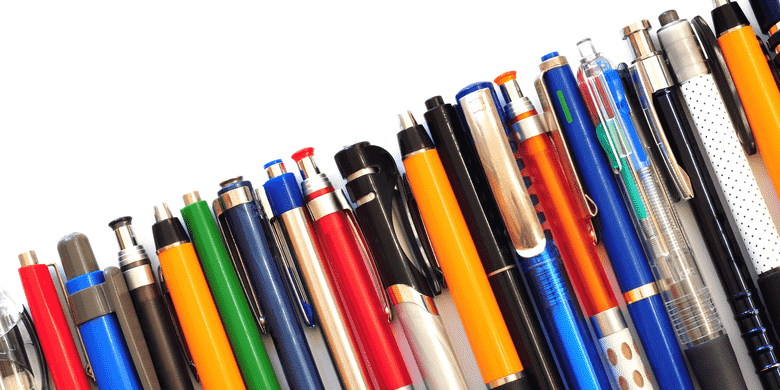 30 March, 2022
Top 7 Ways To Use Promotional Pens
Promotional Pens are still one of the top-selling products when it comes to merchandise to advertise a business, club or cause. Printed with your logo, custom pens become a powerful advertising tool, so we thought we'd list some of the best ways to use them, in order to get your message out to the marketplace. Due to their low cost, pens are an effective way to promote a business without having to spend a fortune, plus with the varying degrees of quality, you can have cheap pens to give away to the masses, to more expensive executive styles to say thank you.
1. Use them as your Business Card: Forget giving business cards that people are just going to throw away in the bin. Use a promotional pen printed with your details. Nobody throws a pen away! Better still use a banner pen and you get a pull-out section that can be printed on both sides with lots of details about your company or cause.
2. Tradeshow Giveaways: This one is a no-brainer. Pens are always eagerly scooped up at trade shows and even if the person doesn't pay much attention to your stand, if you have your website printed on the pen, they can always refer to this and go back later to look at the different products you offer.
3. Gift With Purchase: Offer a free pen when someone spends "X" amount of dollars in your shop. If they are close to the amount, it might entice them to spend a little more. Otherwise, they will also make the shopper feel more important with the free gift, plus it gives them a reminder of your shop every time they use the pen.
4. Sales Intro Leave Behind: If you are doing a cold call sales drop in, leave a bunch of your pens at reception. Whether you get an appointment or not, at least there is useful advertising material now in their possession. If you leave a small brochure or pamphlet, odds are it will be thrown straight into the bin. By giving pens, you are assured of them keeping them and seeing your business name.
5. Mail Out Promotions: Send a pen as part of a promotion. You may be offering a discount for people to use your service, or it could be to tell people about your service. If you are a plumber or electrician, you can put your details on the pen and drop them in people's mailboxes. They will be sure to read it to see what the business is all about, as they have just received a free gift that is useful.
6. End Of Year School Graduations: A great way to use promotional pens is to get the class and graduation year engraved onto a pen and give it to students once they finish their final exams. It is a nice way for the school to recognise what the students have achieved and it also gives them a nice memento of their time with the school.
7. Staff Recognition: When someone has gone above and beyond their normal job duties, or perhaps reach a certain work milestone such as 5 or 10 years of service, a pen is a great way to acknowledge this. Get them a nice quality pen, engraved with the name and what they have done and present it to them. It will bring more employee loyalty, along with doing something nice.
These are just some of the ways you can use promotional pens. They are such a proven marketing tool, that there is literally not a single business that couldn't use them to help promote their company. If you would like to use pens for your next promotion but are unsure what would work best, contact us and we'd be glad to help.
The Pens Only Team